Network Marketing Consultant

Providing MLM Secrets and Resources...
As a network marketing consultant, I too often hear the following sentance...
"If only I knew how everybody else did it, I too would be getting those monthly cheques and bonuses! … But just HOW do they do it?!"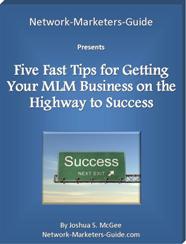 Check out my FREE new guide!
Click here to opt in for your copy!
I can almost guarantee that this is a common thought that plagues every network marketers mind.
Being a network marketing consultant, I believe it is important to explain and show people HOW to be successful in network marketing.
This website is a how-to guide which has all the information you need. It is here to help people who have started this venture and haven't done very well yet.
You will find plenty of network marketing advice and tips including MLM reviews, secrets and MLM resources.
Before we address that mind boggling question that never seems to have a set answer... "How do they do it?", let me introduce myself.
Hello, my name is Joshua McGee and I am a network marketing consultant. During the first few months in this industry I endured my fair share of unpleasant experiences - experiences that you may be well accustomed to.
Let me jog your memory on a couple, I don't mean to rub salt in any sore wounds of your own, but how many of these points can you honestly relate to?

1. Make a list of names of everyone you know
Yes, we have all been there and done that. You are strongly suggested to make a names list and these people become the first victim's urgh...I mean potential prospects of your opportunity.
It may work for those of us who's list of names actually consist of people ALL looking for a business opportunity, but in reality how many are?
The answer is, not many at all!

2. Everyone is your prospect!
Yeah right! On your way to the store, work, picking up the children from school, well pretty much anywhere you go, you have more than likely to have been told to always keep in the back of your mind, that everyone is a prospect.

But aren't you tired of pressing your opportunity on everyone within an arm's length? This isn't what you joined a network marketing company for is it?
There are much better, more effective ways to prospect and I will teach you how to do them here on this website.
Now, that's enough bad flashbacks for you and me, it's time to move on.

How your new network marketing consultant can help you
Here are just a handful of the topics that you will find very helpful information on:
How to attract endless prequalified prospects - The best kept MLM secret
How to actually sponsor and deal with those prospects once you have them lining up at your door
How to decide on your niche and selecting your best target market
How to select a network marketing company and which guidelines to use
How to monetize your business during the early stages and beyond
I sincerely hope this website provides you with the information you are looking for and also gives your business that extra boost you want.
I am a very passionate network marketing consultant. I constantly add MLM reviews and resources to help fellow network marketers, so feel free to return anytime you like, this site is a guide for you to use.
Are you in search of tips for Network Marketing? Find what you are looking for in this FREE downloadable guide.
The Network Marketing Blog keeps you current with the latest additions and changes to the network-marketers-guide.com website. Subscribe here
So, what is network marketing and MLM? This is a home based business opportunity that can generate a very substantial passive income.
The history of Network Marketing and MLM started in the 1940's when California Vitamins realized the power of recruiting family and friends of its current sales representatives.
Before investing in a MLM home business opportunity it is very important to know what to look for. Here are key points you need to know about...
Taking a quick look at an MLM FAQ page is a great starting point in getting answers to those questions plaguing your mind on Network Marketing. Find out what you need to right here.
The first year in network marketing is the most difficult. Learn how to build your business successfully and which pitfalls to avoid so you do not become one who fails in their first year of MLM.
An understanding of a network marketing compensation plan is important, because it indicates how you earn the money and if there are any limits on the size of your business.
Finding the top Network Marketing companies can be difficult but it is also an excellent starting point if you are looking at joining an MLM firm. Find everything you need here…
Follow this MLM recruiting training guide for all the help, tips and advice you need to build your MLM team.
Having effective MLM sales skills is an important factor when it comes to MLM success. Start learning how to increase your sales here...
What exactly is a network marketing home based business? Find the answer to your question here along with useful information on what to look for in other home business ideas.
Building your MLM lead list can be very difficult and in this industry it is important to have fresh prospects if you want your business to grow. Learn how to start building your business here, today.
The Disclaimer of network-marketers-guide.com
Use the Network Marketers Guide Site Map to navigate your way around the website to find the advice and tips you are looking for.
Contact network-marketers-guide.com
Would you like to share your knowledge about network marketing consultant? Great, find out how you can submit your story or tip here.